Topic: Freeware. Get it here! (Freeware Archive)
** Someone sticky this please, it is super benefitial, if you feel it is in the wrong section feel free to move it please n thanks
**
So I feel there is this common misconception when it comes to well basically everything.... That you gotta pay to get the goods... well with people bitching about pirating, as well as people boasting about it.. here is teh end all... its called Freeware, software made public for free.
This thread will be a place for ANYONE to post any and all music related freeware, this includes but is not limited to: DAW's, Plugins, Samples, Packs and Projects.
Free DAW's
*****Please note that some of the items may contain PAID upgrades such as "Tracktion 4" (still full featured) with an upgrade to "Traction T6" for like $60, these Items will be marked with asterisks. *****
1) Presonus Studio One Free (Windows/Mac OS X)
Presonus's Studio One is an increasingly popular DAW for Mac and PC and though there's a demo version, there's also a free version in the form of Studio One Prime.
http://www.presonus.com/products/software

2) Ardour (Mac OS X/Linux)
Ardour allows overlapping layered regions, non-overlapping regions or true destructive (single-file) regions, as well as unlimited channels.
There's much more, including extensive video support that is better than in many paid DAWs and supports extracting audio from video and modular support for using multiple machines. There's full plug-in support, plus batch track export, non-destructive editing and comprehensive mixing and routing available.
http://ardour.org/

3) ***** (Cockos REAPER (Windows/Mac OS X) *****
Reaper is a fully fleshed out, professional DAW that is quick, powerful and compatible with audio and MIDI, various plugins as well as featuring loads of studio-quality effects. So how is it free? Well REAPER is technically free with a free trial for 60 days after which you will still be able to use the software but will be prompted to pay for it regularly.
REAPER features a design familiar to anyone that has used a DAW before so it's not complicated. It wouldn't look amiss inside a studio with it's multitude of sophisticated features but REAPER is great value even if you do purchase it for $60 (commercial license costs $225).
http://www.reaper.fm/

4) Rosegarden (Linux)
Rosegarden can be a little visually jarring but it's users attest to it's accessibility with an easy-to-learn interface that can be very attractive despite it's slightly unusual design. One of Rosegarden's strongest features is it's music notation editing capabilities which are in-depth and provide detailed visual scoring and arranging.
http://www.rosegardenmusic.com/

5) MU.Lab (Windows/Mac OS X)
MuLab works on Mac or PC and has a remarkable feature set. As good, in fact, as some entry-level paid DAWs.
You get audio and MIDI multitracking, automation support, modular architecture and multicore CPU support. There's support for REX files, slicing sampled drum loops, a streamlined mixer and a selection of synths, samplers and effects and various sample players.
http://www.mutools.com/mulab-downloads.html

6) **** Tracktion 4 (Windows/Mac OS X/Linux) *****
Tracktion 4 was offered as a free music making program for Behringer customers in 2013 but earlier this year was made free for everyone. Though there are newer versions Tracktion 4 is the only one available for free, however with its fast audio editing and mix workflow Tracktion 4 should keep most satisfied.
http://www.tracktion.com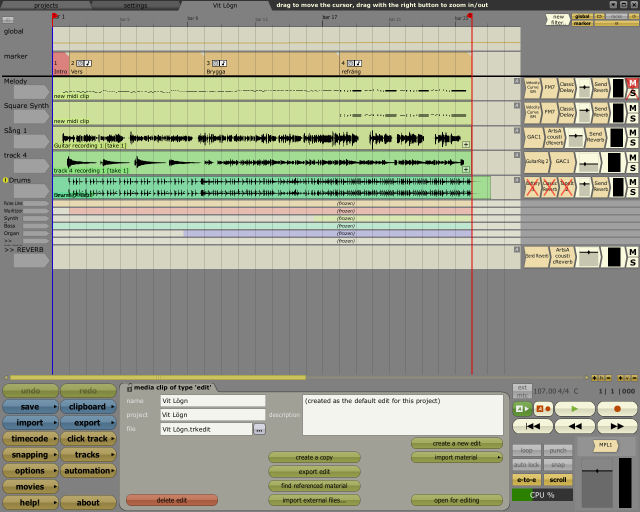 7) LMMS (Windows/Mac OS X/Linux)
LMMS (previously Linux MultiMedia Studio) is a free digital audio workstation. Music can be produced by synthesizing sounds, arranging samples, and playing on a MIDI keyboard by combining the features of trackers, sequencers and synthesizers. It supports LADSPA, SF2 files and VST plugins.
https://lmms.io/

8) OHM STUDIO (Windows/Mac OS X)
Ohm Studio is the first real-time collaborative digital audio workstation. Start a project, invite musicians and make music together. It's as simple as that.
Download the application and join a worldwide online cohmunity of musicians and producers.
https://www.ohmforce.com/OhmStudio.do

9) Zynewave Podium Free (Windows)
Podium Free is the freeware edition of Zynewave's brilliant Podium DAW. Developed by one man Podium is a complete audio and MIDI recording program with multi-tracks (though only one input/output can be used at a time with the free version), VST support, bundled plugins and more.
The free version has certain performance limiting restrictions such as no multiprocessing, no 64-bit mixer engine option and more. Despite this though Podium Free still does what it's made to and does it well with an intuitive design full of editing options.
http://zynewave.com/podium-free/

10) *****NI Komplete Player Bundle (Windows/Mac OS X)*****
Native Instruments is known for its high-end – and often expensive – software. If you don't want to pay a small fortune for Komplete, then you can get the Komplete Player bundle for nothing. It features Kontakt 5 Player, Reaktor 5 Player and Guitar Rig 5 Player, meaning you get a sample player, capable synth and effects engine with 600 MB of sounds. It might be a gateway drug into a very expensive world, but considering you could make entire tracks with just these devices, the Komplete Players offer exceptional value.
http://www.native-instruments.com/en/products/free/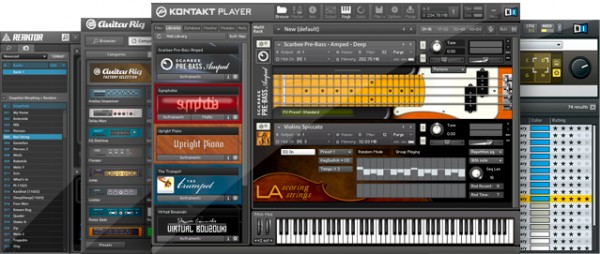 To Be Continued...